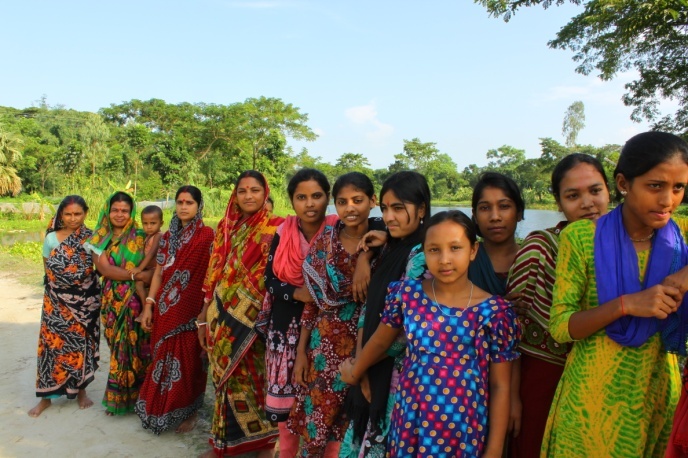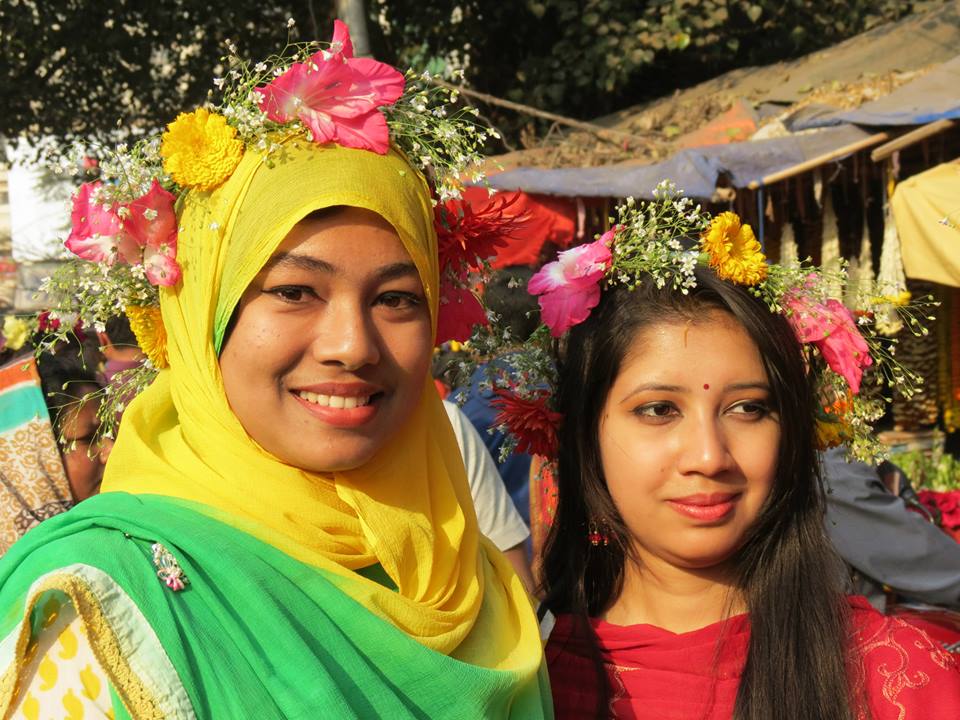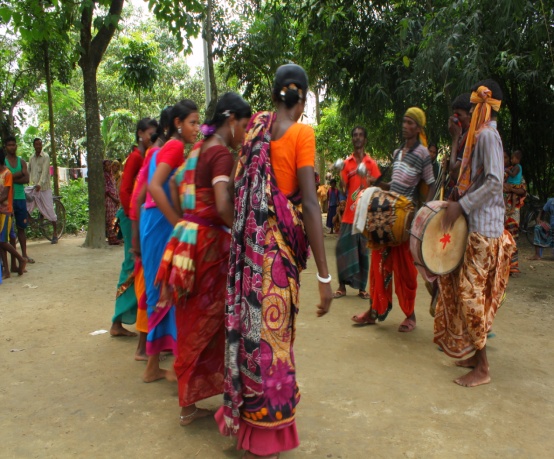 Bangladesh is a country of diversity; the people of this country are more diverse. Thousands of years of silt from the Ganges, the Brahmaputra, and the Bay of Bengal have formed this landmass and formed the largest delta in the world. People from different regions, different colors, different languages, different cultures have come together to form the Bengali nation.
About 90% of the people are not in a good socio-economic condition but one thing that happens in this country is the affections of people. When a foreigner goes or travels anywhere in this country, they look at the foreigner in amazement until the foreigner looks at him, giving the foreigner a welcome smile. If you want to know something, with in a couple of glimpses a crowd of people will gather around you to answer your question, which will surprise anyone. They will request you for a selfie with you. You will be in a state of wonder as long as these people are around you.
Foreigners are like celebrities in this country, if you walk in a village or a small town in Bangladesh, you will see in a few seconds the children of the village surround you and curiously follow you again till you reach the end of that village. They feel very happy to be with you. Foreigners everywhere in this country are getting bright smiles and congratulations from Bengali people. You will become the biggest celebrity unknowingly by their surroundings in this country. So, if you can understand the people of this country, you can easily know Bangladesh. Does it bring Bangladesh to your travel bucket list, that maybe not been happening with you yet?
The Bangladeshi nation are an ever smiling people, warm-hearted, welcoming & hospitable; this is a most amazing thing and rare to be seen in this world. There are many different types of people living in Bangladesh, including 39 individual Indigenous communities.  It is estimated that the majority of our population is Muslim. Many Hindus, Buddhists and Christians also live here. Read More
Home stay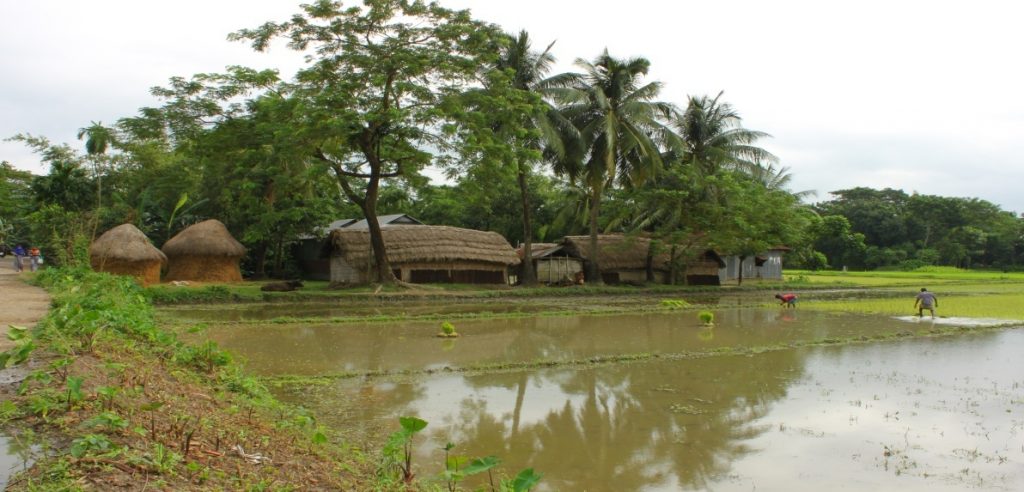 To know a country is to know its people. Just imagine eating, living and cooking with them. It is truly wonderful to experience these warm welcoming feelings, and it will make you a Bangladeshi for few moments, perhaps to teach you a different meaning of life and where happiness lies
Our Vision is to promote sustainable tourism in Bangladesh. We do this by preserving culture and natural heritage, implementing eco-friendly practices in our homestays, sourcing products locally, engaging local workers to provide economic benefits to the local community, and inspiring people to travel responsibly.
The Mission of Tours and Trips Bangladesh is to reduce migration from rural Bangladesh, not only do we provide alternative livelihoods to the host families but also help the local community. In addition to hiring local staff and using local resources, we train women in various aspects of hospitality such as handling guests, cooking, hygiene, adopting eco-habits, etc. The youth of the area are also given training in tourism activities for employment. They don't have to go to the city in search of opportunities and jobs. Job opportunities are being created in the village. We work actively with locals to create local product and handicraft outlets to boost the local economy.
Festivals
Festivals are an expressive way of celebrating glorious culture, tradition and heritage. These are meant to express to our loved ones the special moments and emotions of our lives that they played a vital role in adding structure to our social life and connecting us to our backgrounds and families.
In Bangladesh we have several festivals such as Religion festivals, Cultural festivals, National festivals.
Religious Festival
"Religion is yours but festival is ours" is what is said by the people of Bangladesh.  This is because there are different religions and so many festivals to celebrate. Muslims have Eid festivals twice a year.One is Eid-ul-Fitr (the end of Ramadan fasting) and another is Eid-ul-Azha. Hindus have about 13 festivals year, among which the Durga Puja is the most famous. For Buddhist people it's Buddha Purnima and for Christians it is Christmas. We respect the religious sentiments of all in this country, and when we meet, we respect each other with a smile. So, you can see why the people say "Religion is yours but festival is ours".
Cultural Festival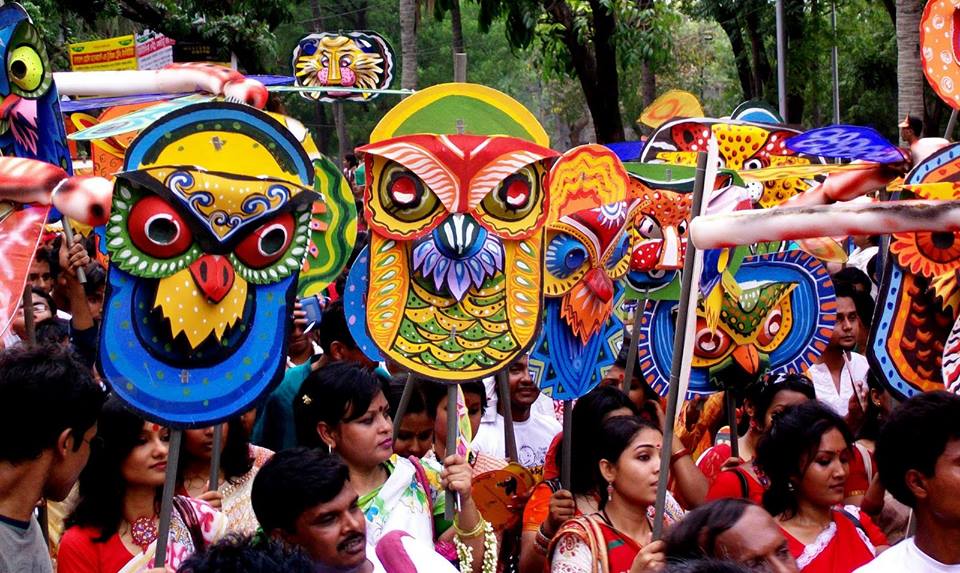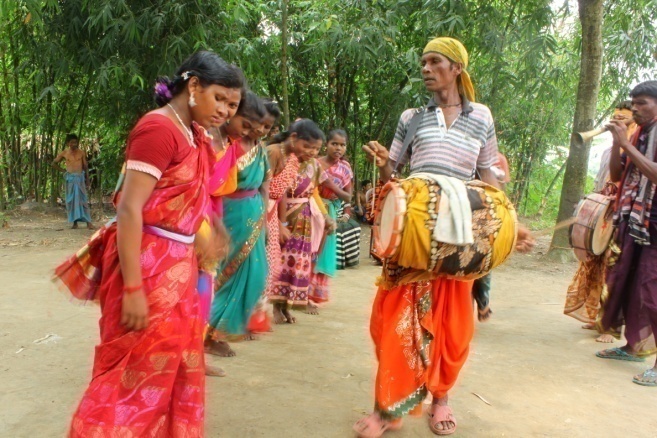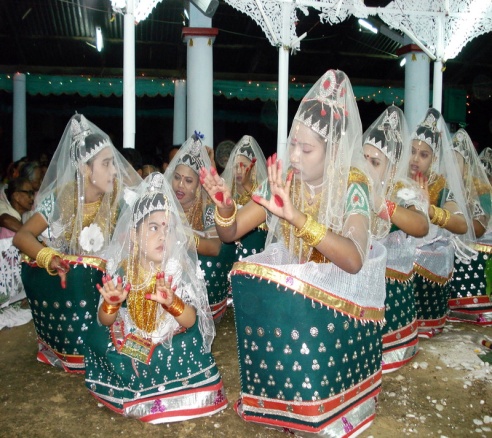 Cultural festivals and ceremonies are increasingly becoming a field of discussion that enables people to express their views on a wide range of cultural, social and political issues. Often the debates polarize between those who favor change and those who want to preserve "tradition" or "local" culture in the face of modernization and globalization. Here we will highlight the traditional and popular cultural festivals of Bangladesh Our Cultural festivals are Bengali New Year Day (Pahela Baishakh), Bosnto Utshab (Spring festival also known as Pohela Falgun), Nabanno Utshab ( Winter harvest festival or Pitha Utshab), Sakrain festival ( Also known as Kite festival or Ghuri Utshab), Dhaka World Music festival, Bengal Classical Music festival, International folk festival.
National Festival
Lively, cheerful and colorful – words to describe the festivals of Bangladesh. There are innumerable festivals that are celebrated with joy in Bangladesh. On top of these festivals, there are several national festivals which are celebrated and celebrated by the whole of Bangladesh, irrespective of religion or caste.
National festivals are Independence Day (26th March), 21st February Language Movement Day (International Mother Language Day), and Victory Day (16th December) are celebrated across the country.
In addition to these religious, national and cultural festivals villages and towns, professional groups, cultural organizations organize their own festivals.
Rickshaw Ride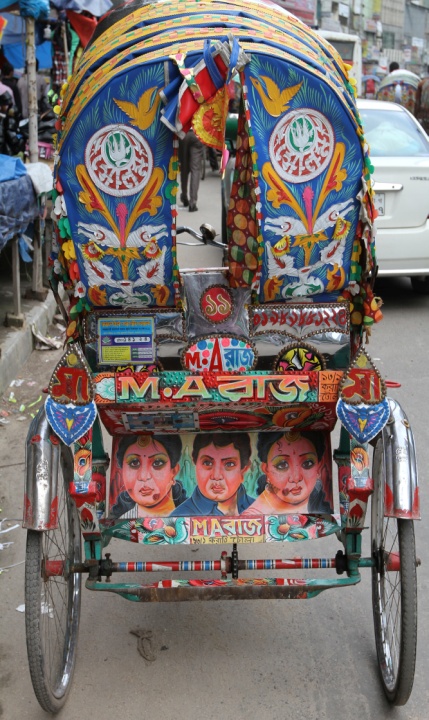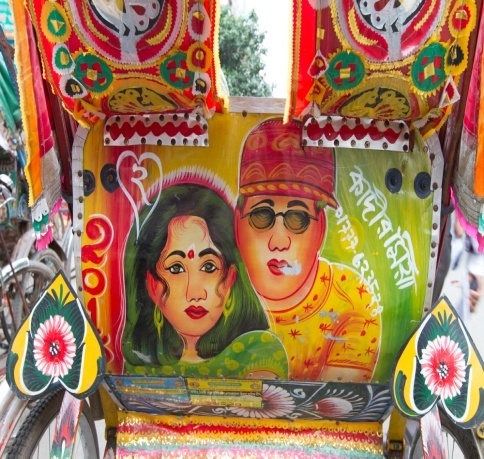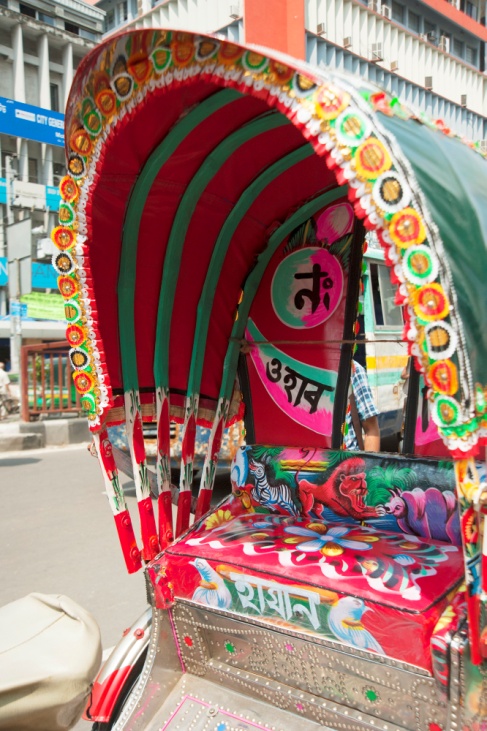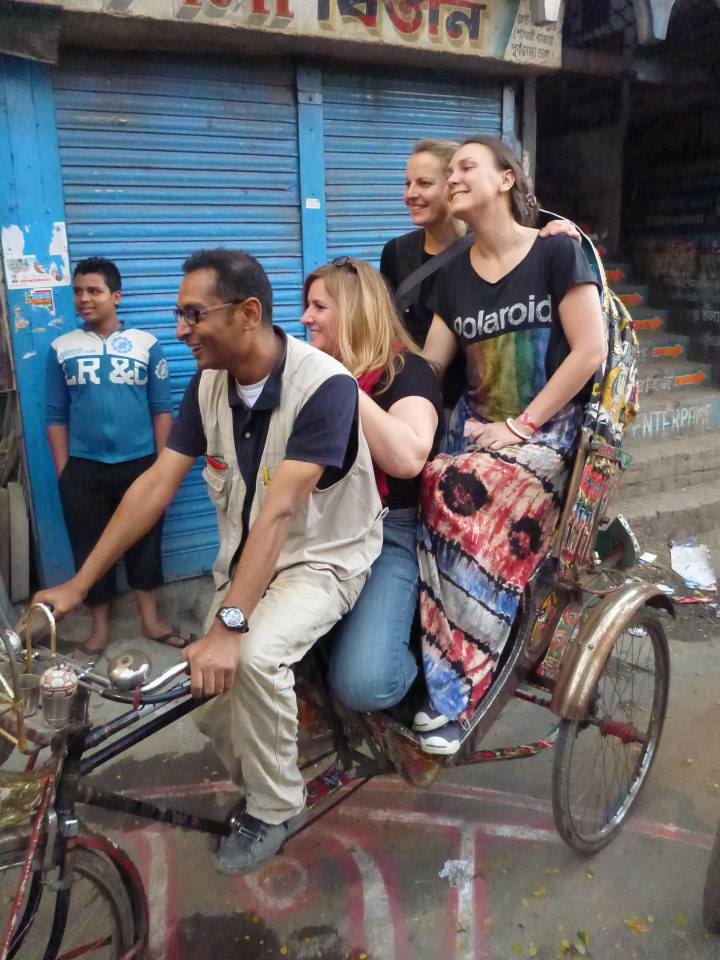 A 'must do' in Bangladesh.

Which is the most easily available transport in Bangladesh? In the blink of an eye, anyone will say it is a rickshaw puller. Rickshaws are so prevalent in the country that if anyone steps outside their house, one or more rickshaws, with their little silver tinkling bells, will appear within a minute.
When riding in a rickshaw it will feel like you are going through a moving art gallery.
Rickshaws originally came from Japan through Singapore & India, reaching Bangladesh in the 1930s.  Gradually their original shape has changed to form today's Bengali look. The beautiful paintings all round a rickshaw make them most colorful.
In Bangladesh, rickshaws are more popular than all other modes of transport. Most of the rickshaws run on alleys and narrow roads. The size of the middle class is increasing and the number of passengers using rickshaws is also increasing. As a result, rickshaws have emerged as one of the most common and popular means of transportation for the people of Bangladesh.
One of the reasons why rickshaws are so convenient for city dwellers is that Dhaka is not a walking city. The sidewalks are occupied by hawkers and often litter, which makes it extremely difficult for people to use the sidewalks, which should be ideally free for pedestrians. Also, the people here are not accustomed to walking – even when they have to walk quite a bit with some luggage. Then there is the lack of sufficient public transport. Anyone who commutes to work or school every day knows how difficult it is to catch a public transport bus. Some of the reasons why rickshaws are so popular all over Bangladesh are when someone dies, or a person goes missing, or a fair is held, a commercial product is advertised, a political or social announcement is made, then the sound system is set in the rickshaw and the announcement is made for the locals.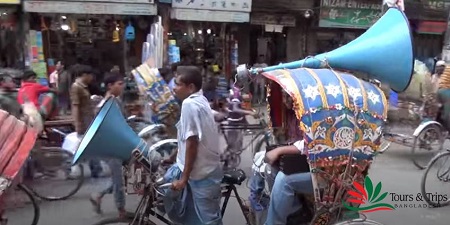 Dhaka is considered as one of the most densely populated and polluted cities in the world. There are some things that make Dhaka stand out all over the world. But rickshaws are a source of comfort, tradition and pride for us. Dhaka is listed in the Guinness Book of World Records for the greatest number of rickshaws in a city. It was published in the 2015 Guinness Book of World Records in the chapter "Urban Transport" under the title "Most cycle Rickshaws in a City".
Cruise with Rocket Steamer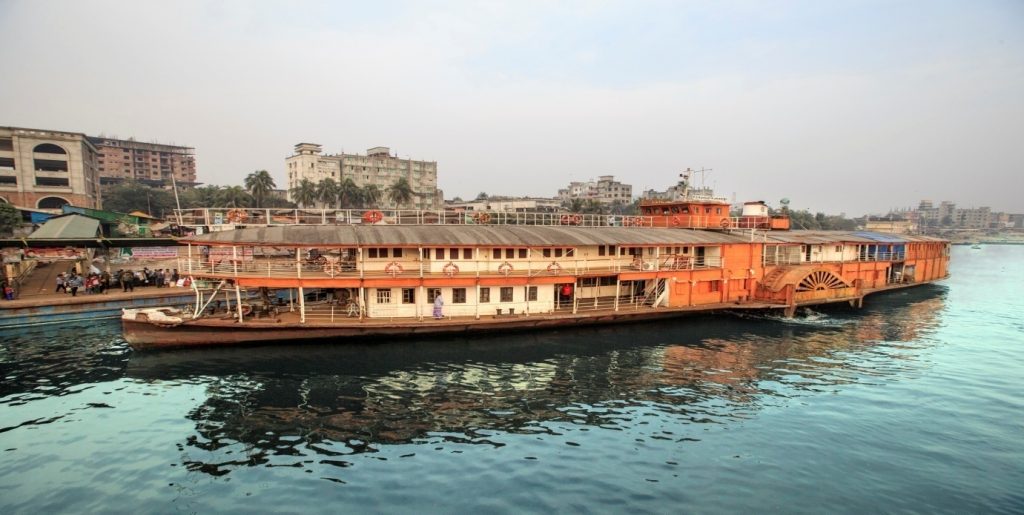 The best way to get into the heart of the country is to take a cruise on the Legendary "Rocket" Paddle Steamer.  This unique vessel, built by the British about 100 years ago still runs in style, paddling through the greatest delta country in the world.
Sit back, relax and enjoy a cup of tea whilst admiring the beauty of the river delta.
Sundarbans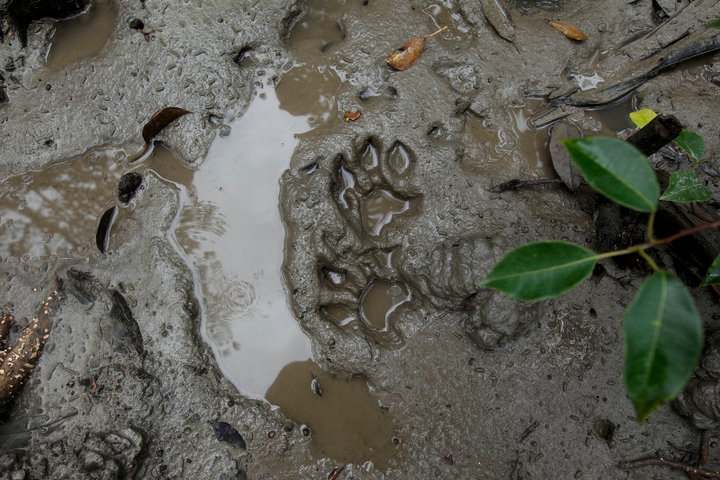 This UNESCO world heritage site is the largest single block mangrove forest in the world. The 6000sq km area is the home of 400 types of fish, 30 types of reptile, 40 types of mammal, 70 types of bird and the biggest cat on the planet – the Royal Bengal Tiger. About 110,000 people are directly dependent on the forest for their livelihood.  Ecological support from the forest on our environment is really stabilising. Moreover the beauty of the forest and the charming adventure attract thousands of local and foreign tourists. The forest's calmness and birdsong, and its history of ever-changing geography, the forest dependent people who live there, the myth of Banobibi and The Royal Bengal Tiger, all make this forest a really interesting tourist attraction, different from any other place in the world.
And it was also the candidate for the Seven Natural Wonders of the world.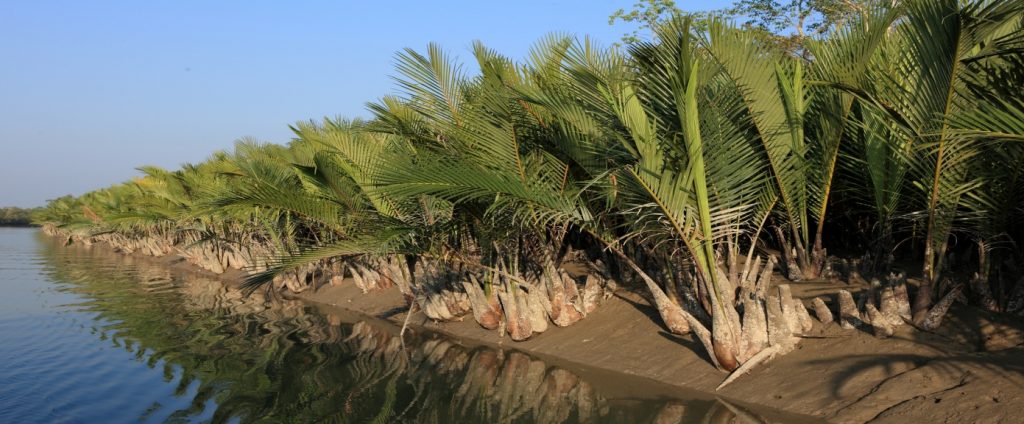 Forests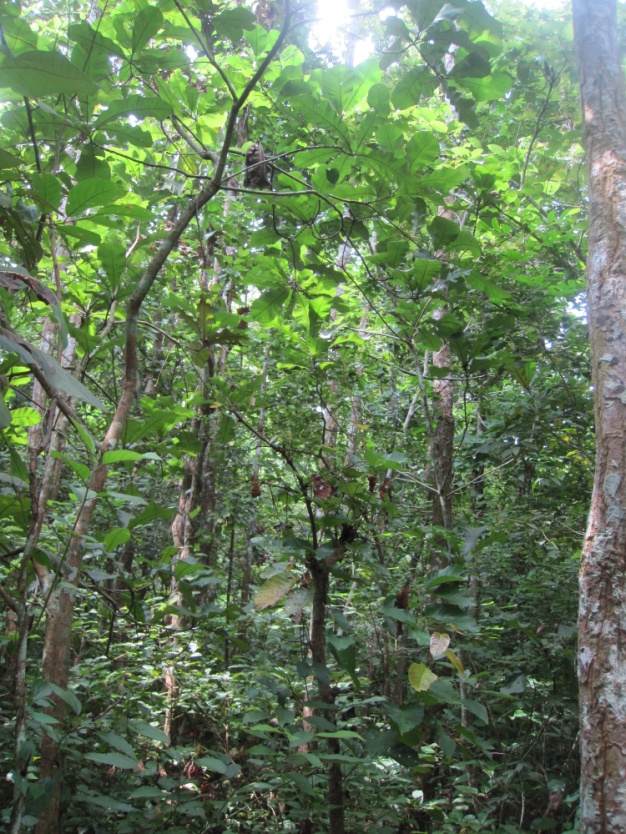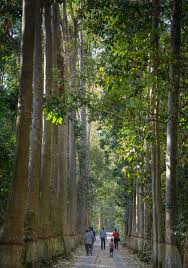 The country offers with different types of forests as mangrove, Swamp, Hilly and Rain forest. The vegetation of these forests are completely different from each other. The single largest mangrove UNESCO World Heritage Site Sundarbans lies here. Not forgetting the breathtaking views of Hilly forest in the southeast. The country possesses a small patch of Rain Forest and a small Swamp Forest also.





Cox's Bazar

The Longest Sea Beach in the world
This 120 km long unbroken sea beach is 100 metres wide, and a treasure of natural beauty in Bangladesh. Some small islands including the St. Martin Island, have a sandy beach and enjoyable breezes that will take you to a heavenly feeling of relaxation.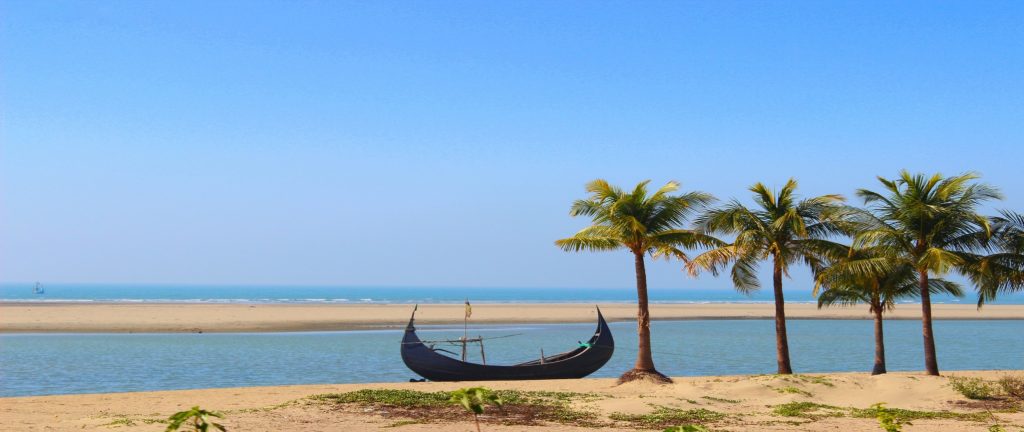 National Parliament Building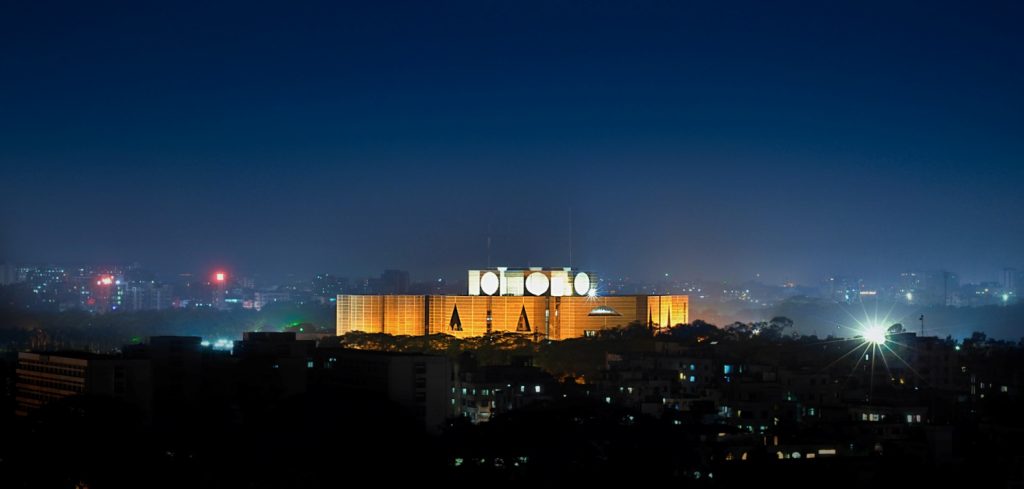 The Bangladesh National Parliament Building is located at Sher-e-Bangla Nagar in the Capital city, Dhaka. The building is designed by architect Louis I Kahn and is one of the largest legislative complexes in the world, comprising 200 acres (800,000sqm). The exterior of the building is striking in its simplicity, with huge walls deeply recessed by porticoes and large openings of regular geometric shapes. The building consists of nine individual blocks: the eight peripheral blocks rise to a height of 110' while the central octagonal block rises to a height of 155'. An artificial lake surrounds three sides of the main building to portray the riverine beauty of Bangladesh.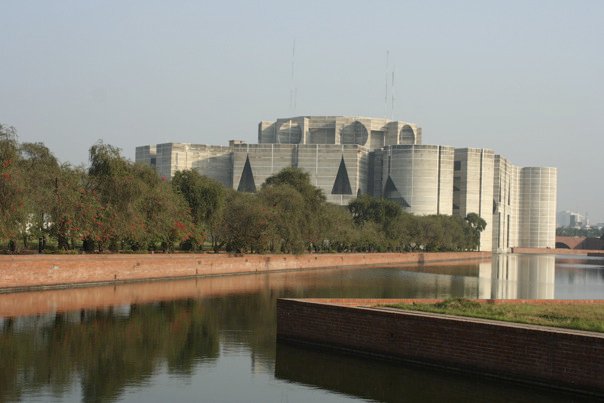 Cruise on Kaptai Lake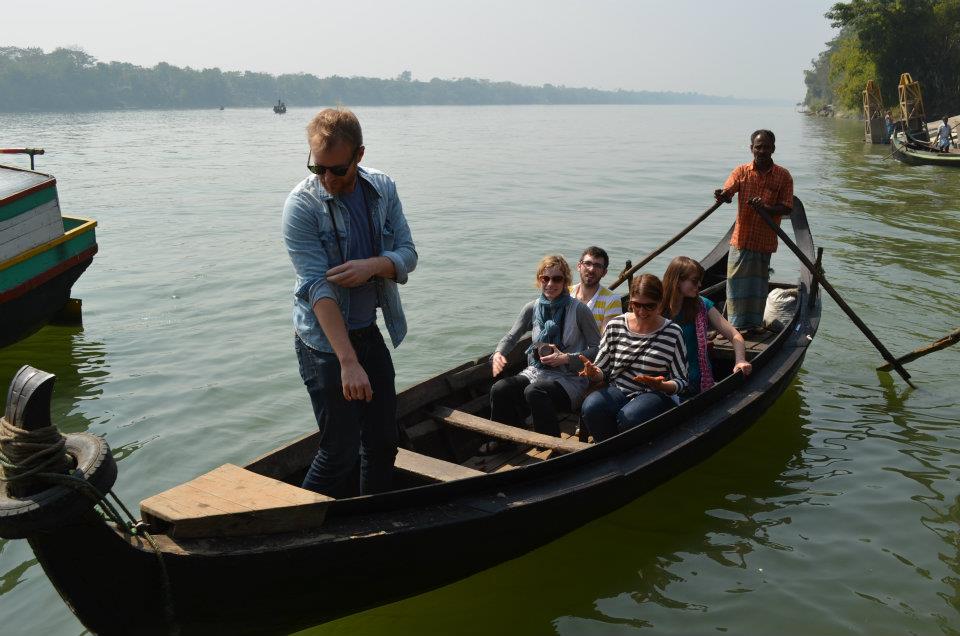 Kaptai Lake is the largest man-made lake in Bangladesh located in the Kaptai and Rangamati area. Embarking on a breathtaking cruise through the lake by the hilltop tribal villages takes you to a different dimension.
A wonderful Sunset from the lake will complete your day. Kaptai Lake has become the home of migratory birds and one of the best tourist attractions in the country.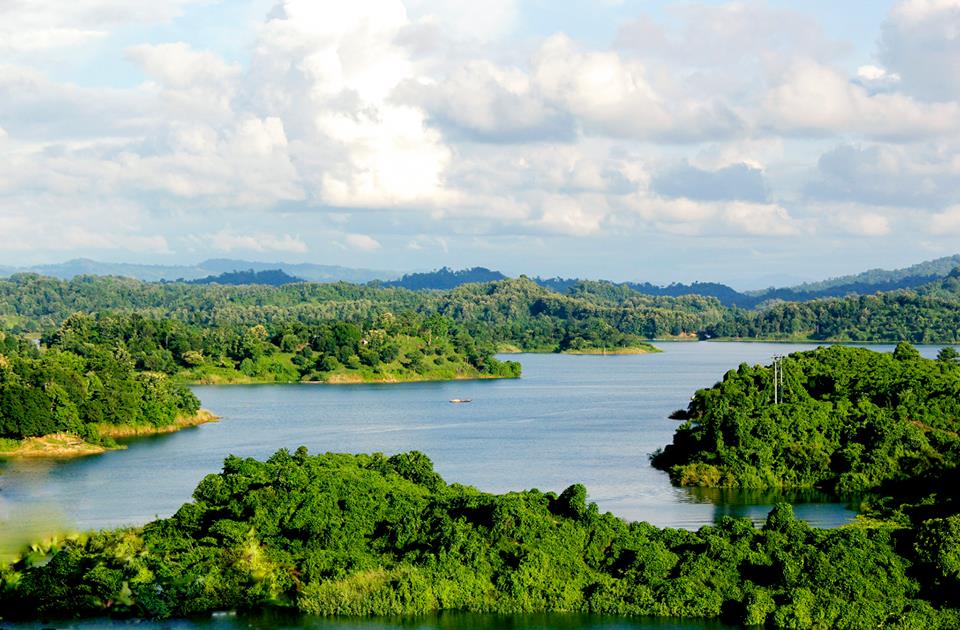 Train Journey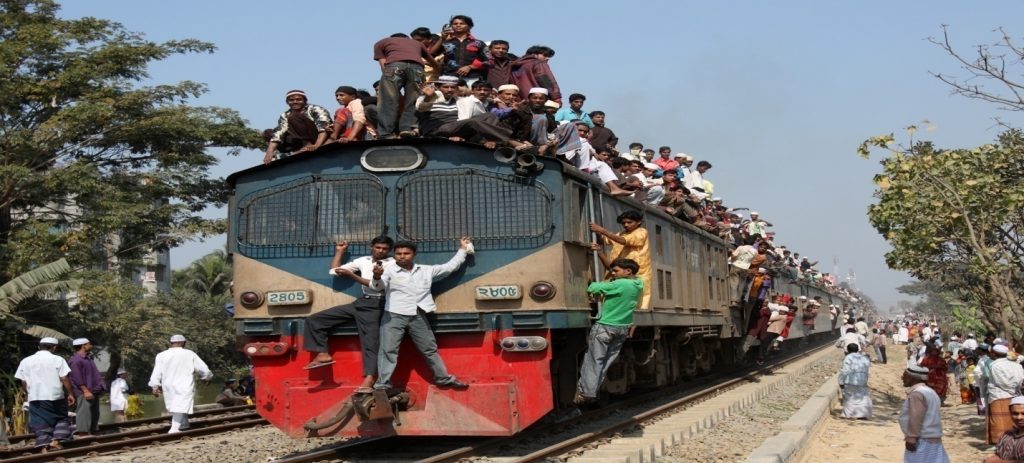 Almost everywhere in Bangladesh you can travel by train. It's a wonderful experience to travel with the locals. Try it to believe it! If you arehttps://codebeautify.org/htmlviewer/# looking for an adventure take a ride on the rooftop, or travel sitting right in front of the engine.
Food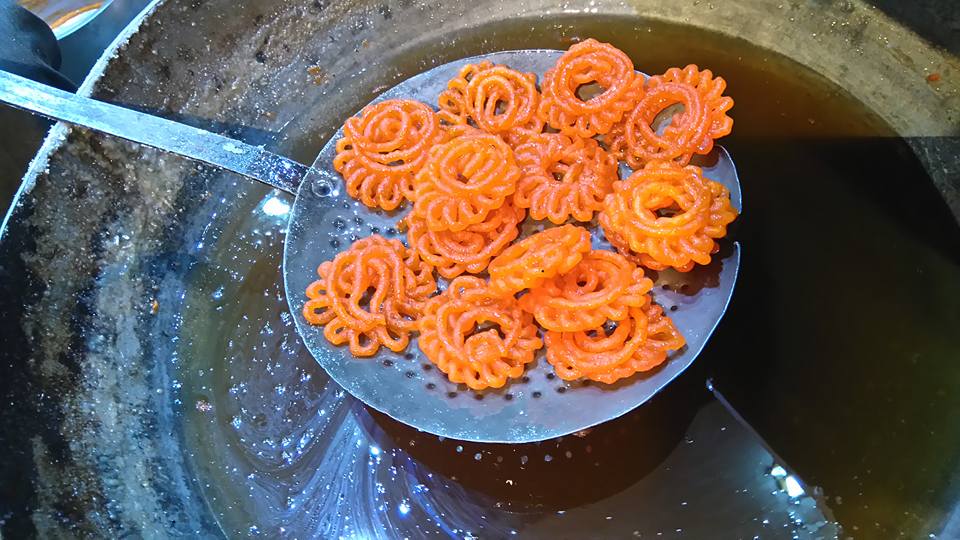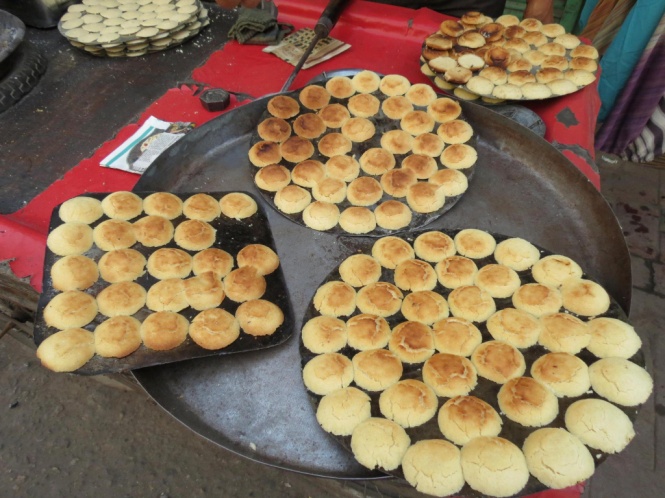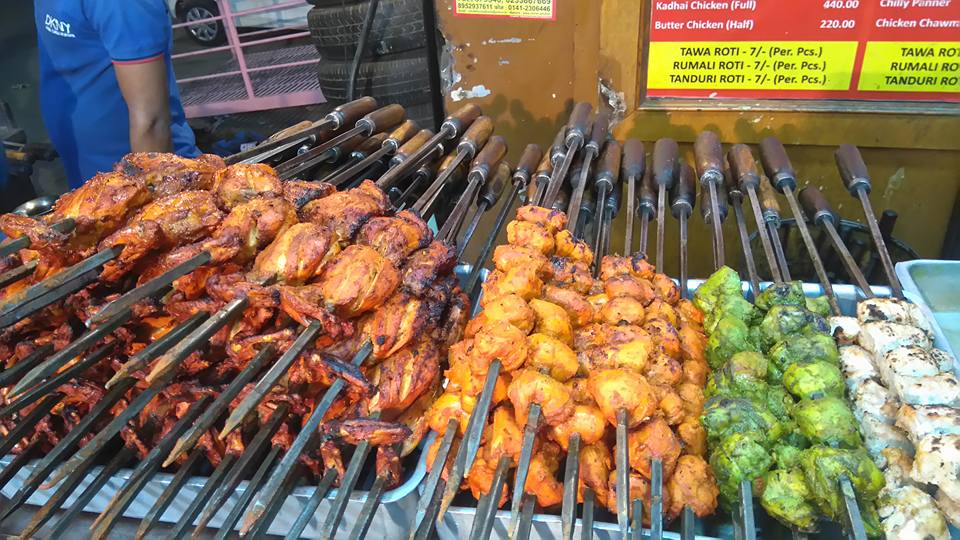 Fuska is a roadside food attraction. Everyone loves to sit by the roadside enjoying a plate of Fuska with tamarind sauce; this mouth-watering snackwith its secret recipe is stuffed with potatoes and chick peas. Make a little time to treat yourself.