All In One Bangladesh
Duration: 23 Days
Highlights of the tour :
Sights of New and Old Dhaka
Ancient Temples
Ruins of Buddhist Monastery
Coral Island
Beach
Forest
People
Villages
Local Markets
River Cruise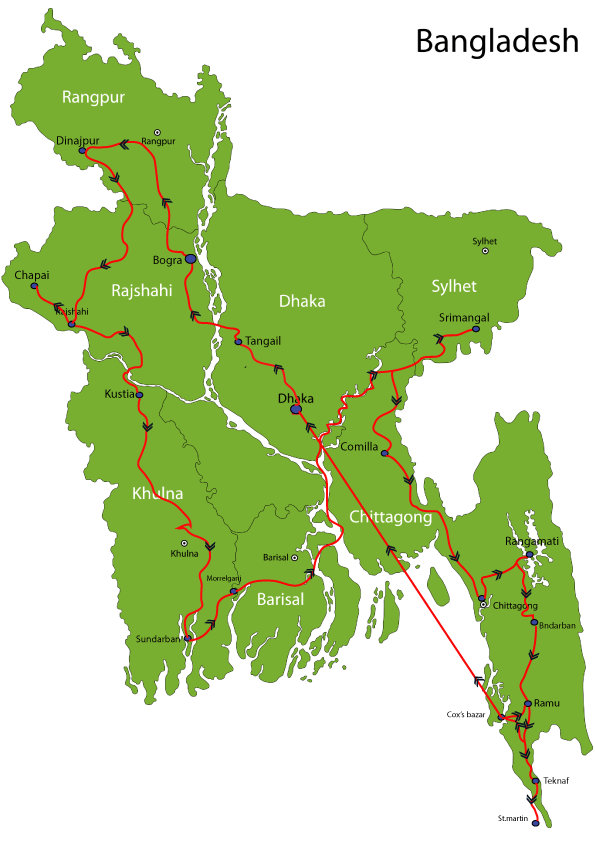 What To Expect
This fabulous tour is designed to help you understand and know Bangladesh in all its aspects by visiting the four corners of the country North South East & West. We will examine some History, Archaeology, and local People & Ethnic Communities in the rural villages, the hills, forest, and coral island and so on.  You will be kept busy learning during these 22 days of long and interesting journeys. It's a must do itinerary.
LOCATIONS 
Dhaka, Bogra, Dinajpur, Rajshahi, Tangail, Srimangal, Sundarbans, Chittagong, Comilla, Rangamati, Bandarban, Ramu, Cox's Bazar, Teknaf and St. Martin.
Best time to travel
October to March
Tour Available
All year Round.
Transportation
Ac Car, Rickshaw & Boat.
WEAR

Men:
Long trousers and T shirt or shirt, with comfortable shoes.
Ladies:
Long Trousers, long sleeves & scarf

Remove shoes whilst visiting Temples & Mosques.

INCLUDED

| | |
| --- | --- |
| Accommodation in twin sharing basis | Breakfast at Hotel |
| Transport with Sedan car | All entrance fees |
| One 500 ml mineral water bottle per day | An English Speaking Guide |
| All sightseeing according to itinerary | Flight Tickets Cox's Bazaar – Dhaka |
| Cruise Teknaf – St. Martin – Teknaf | Permission for the Hill Districts |
| All meals while in Sundarban on the boat | Lake Cruise |

NOT INCLUDED

Any lunch & dinner.
Items not included in the above list
Items of personal nature
Any beverage (hard & soft)
Dhaka
Meet and greet your appointed guide at the airport and drive towards your hotel. After freshening up set out for Dhaka sightseeing including Dhaka University, Dhakeshwari Temple, Lallbag Fort, Sadarghat Water Front, Shakari Bazar etc. Drive back to your hotel for overnight stay.
Dhaka - Tangail
After breakfast, start your Bangladesh adventure with Tangail Saree (Saree is traditional cloth for ladies). Today you will stay in a weaving village and spend the night in a guest house located in the middle of the village and organic farm. Here you will see the lifestyle of a real Bangladeshi community.
Tangail - Bogra
After breakfast set your course for Bogra in North Bengal. Today you will be visiting local markets and the oldest citadel of Bangladesh, Mahastanghar dating from 5th century B.C. We also visit Vasu Vihara. Drive to your hotel and check in for the night.
Bogra - Dinajpur
Start your journey with one of the biggest vegetable markets in northern Bengal. Later, we drive to Dinajpur to visit an 18th century Kantajew Temple not forgetting to visit the ruins of Dinajpur Rajbari and its temples. Check into your hotel.
Dinajpur - Rajshahi
After an early breakfast, head towards Rajshahi, visiting Shompura Maha Vihara "Paharpur" (UNESCO World Heritage Site) on the way. Later on continue driving, with some stops at local villages. Enjoy the Sunset by the river Ganges, and check into your hotel.
Rajshahi - Chapai - Rajshahi
After breakfast, get ready to explore the Sultanate Capital in the Gaud area which is divided by the present day border between Bangladesh and India. Spend a few hours to look around the Sultanate Soto Sona Mosque, Darashbari mosque and Madrasah. Then walk through the mango garden to the Khaniadighi Mosque. We go back to Rajshahi and after lunch cross the river Ganges to see the most rural Char lifestyle. Head back to your hotel to experience another beautiful sunset beside the river Ganges.
Rajshahi - Kushtia
After breakfast check out and head out for Phutia Temple City. Here you will discover the authentic craftsmanship in the temples of Gobinda, Shiva, Pancharatna and Jagaddhatri. Then drive to Natore and visit the ruins of the Rajbari. After lunch set out for intellectual city Kushtia to visit the shrine of the mystic poet Lalon Shah and enjoy a musical performance by Lalon's followers. Next we visit Kuthibari (the house of Nobel laureate poet Rabindranath Tagore. Check in at your hotel for overnight stay
Kushtia - Sundarbans
After breakfast start your journey for Bagerhat, the Mosque city of Bangladesh. Here you will visit 60 domed mosques (UNESCO World Heritage Site) and a few other mosques built by General Khan Jahan Ali. Moving on, we start on the drive towards Mongla to board the vessel that will take you to another World Heritage site called 'Sundarban' which is the largest mangrove forest on the planet. We sleep overnight on the vessel.
Sundarbans
One full day of forest activities including early morning canal cruise, jungle tracking and bird-watching. With luck, you may very well have the chance to see a Royal Bengal Tiger. Late afternoon return to the boat and overnight rest.
Sundarban – Morolganj
Early morning Canal cruise by country boat to see the forest and its wildlife from close up. After breakfast enjoy jungle activities. We then cruise back through the delta. After lunch disembark from boat and drive to Morolganj to stay overnight.
Morolganj – Rocket

In the morning board Rocket, the legendary Paddle Steamer. Sit back and relax with a cup of coffee and enjoy cruising through the heart of the country, enjoying the beauty of the riverside, followed by the overnight cruise.
Dhaka – Srimangal
Early in the morning we disembark from Rocket and drive to Srimangal to see the Tea Capital of Bengal. This consists of 150 tea estates including three indigenous communities. not forgetting one and only rain forest in Bangladesh "Lawachara".  
Srimangal
Early morning trek to the Lawachara forest and visit the villages of Khashia inside the forest. Later visit Tripura and Monipuri tribes and enjoy a cup of seven-layer tea sitting on the lap of nature. After lunch take a short drive to Mhadhapur Lake to enjoy sitting on a hillock in the afternoon breeze. Check into your hotel and stay overnight.  
Srimangal - Comilla
Early morning start for Comilla to see the 7th century ruins of Buddhist monasteries Shalban Vihara, Rupban Mura, and Ita khola mura and pay your respect to the Martyrs. Visit the Second World War Cemetery. Later we will drive to your hotel.  
Comilla - Chittagong
After breakfast set your course for Port city Chittagong. On the way, stop for a visit to the ship-breaking yard. At the ends of this journey check in to your hotel upon arrival for overnight stay. 
Chittagong – Rangamati
Visit the fish harbour and market in the early morning. Later, return to the hotel for breakfast then check out and take a sightseeing tour of Chittagong city. After lunch we head for an exciting experience of the hills in the district of Rangamati. On the way there we will stop to visit a Buddhist temple & museum. Upon arrival check in to your hotel for overnight stay. 
Rangamati – Bandarban
After breakfast, get aboard and set sail for a boat ride on the beautiful Kaptai Lake, surrounded by gorgeous hillside scenery. Also visit some tribal villages on small islands. After lunch set your course for Bandarban, with fascinating stops at the Golden Temple and the tribal villages in picturesque Bandarban. Grab a bite of lunch in your hotel, and then take a walk through the tribal market of Bandarban town, not forgetting to climb the hilltop of Nilachal for a wonderful Sunset.
Bandarban – Teknaf
After an early breakfast start for Teknaf, the most southerly town of Bangladesh making a few stops at the brick fields and natural salt processing areas. On arrival at Teknaf, check in to your hotel. After lunch take a walk on the beach and observe the lifestyle of the fishermen. After sunset return to the hotel.  
Teknaf – St. Martin
Get set to take the passenger ferry boat to the Coral Island. After two hours cruising on the Bay of Bengal arrive at St. Martin. Check in at your hotel, then enjoy the island activities or sit back, relax and enjoy a coconut drink on a hammock. (There is no electricity on this island, but generator power is provided).
St Martin – Cox's Bazar
Have a lazy day wandering around the island or go for an underwater expedition by scuba diving. After lunch take the boat back to Teknaf, and drive to Cox's Bazar where a lobster dinner is waiting for you.
Cox's Bazar – Ramu

After breakfast set your compass towards Ramu to visit the Buddhist temples and villages. Here you will be visiting the oldest surviving Buddhist temple of the country; it is 2000 years old. Drive back to Cox's Bazar, then take a leisurely stroll to enjoy the beach area and the beautiful sunset on the longest beach in the world.  
Cox's Bazar – Dhaka
After breakfast visit the temples and the ethnic villages of Rakhain community. Later, we take a boat to the island of Moheshkhali to visit Buddhist and Hindu temples. Back on the mainland we have lunch and check out from the hotel. Head for the airport to catch the afternoon flight for Dhaka. Reaching Dhaka, transfer to your hotel and look forward to a good night's sleep.
Dhaka
After breakfast transfer to airport, where we say goodbye and wish you a safe return home.