Chittagong Hill Tract Tour
Duration: 6 Days
Highlights:
Train Journey With Locals
Ship Breaking Yard
Largest Fish Market & Harbour
Cruise on the Kaptai Lake
Metting Various tribe Community
Tribal markets
Pagodas
Local Markets & People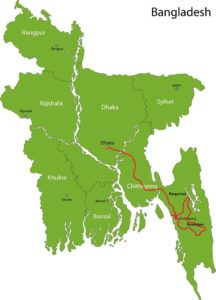 About This Tour
This tour is design to see the hilly districts of Banderban , Rangamati and ship breaking yard in Chittagong. You will be travelling by train with locals.
The largest Buddhist (ethnic) stronghold is the home of the Jumma people. It's a stunning beauty of nature, hills, river and cliffs covered with dense jungles of bamboo, creepers and shrubs, and with some beautiful hiking to explore tribal life , waterfalls etc. The ultimate region is full of the flavors of neighboring Mizoram state of India & Arakan State of Myanmar. it's utterly fascinating and exceedingly beautiful. It also offers a chance to stretch the legs with some of the country's best hiking on offer, though access is often limited for foreigners. Chittagong Hill district is the mostly remote part of Bangladesh. In past, there was some conflict between Rangamati and Bandarban hill district. After the peace accord situation is safe to travel for foreigners. To insure the safety and comfort government orders before visit Chittagong Hill tract district, you need to go to apply for a special permit thorough a travel agency. For applying to get a pass, they need 7 working days with a valid visa & passport copy with an application attached of the travel itinerary. Tribal groups are friendly. You can also go to and visit them frequently but they are not used to see tourist that much. The tribal people are little shy comparing than the Bangladeshi locals. For photography, it's a good choice to visit Hill districts.
LOCATIONS
Dhaka, Chittagong ,Rangamati ,Badanrban
Best time to travel
October to March
Tour Available
All year Round.
Transportation
Ac Car, Rickshaw & Boat.
WEAR

Men:
Long trousers and T shirt or shirt, with comfortable shoes.
Ladies:
Long Trousers, long sleeves & scarf
Remove shoes whilst visiting Temples & Mosques.

INCLUDED

Accommodation on twin sharing basis.
Special permit for Hill districts.
Sightseeing as per itinerary by AC Car.
Dhaka to Chittagong by train / Bus
Boat tour by local Engine Boat.
Breakfast included
Sightseeing as per itinerary.
English Speaking Guide.
All entrance fees

NOT INCLUDED

Lunch and Dinner is excluded.
Items of personal nature
Any International Bus or air ticket.
Any beverage (hard & soft)
Train Riding
Our guide will pick up at your hotel at your convenient place by 06:30 am sharp and transfer to Dhaka central Railway station. The train leaves at around 7:40 am. We will take the morning intercity train to Chittagong. Train in Bangladesh is one of the most popular rides for local and tourist as well. It's unique for photography where you will have plenty of people, life, nature and moving subjects. Light lunch will be serving. All day train ride with several stops in the district station. Upon arrival, Drive to the Hotel on the way visit 2nd World war cemetery, walk in the city center to see the life of Chittagong. Dinner & Overnight stay in Chittagong.

Hill district & Ship Breaking yard & Rangmati
Morning after breakfast check out and drive to the Chittagong most crowed fish market. This market is the largest sea fish market in Bangladesh. The market starts early morning for some hours, fisherman with boat coming from deep sea to sell fishes here. A visiting of the fish market and then drive to Rangmamati Hill district. On the way stop to visit worlds one of the largest and famous ship breaking yard . It's the fourth largest ship breaking yard and every time you visit, at least 50 to 70 ships you can see are dying there. We will take a boat tour of ship breaking yard of sitakunda. Then continue our visit including the scrap market of ship breaking. You can do some shopping there like buying old ships items from the market in an affordable rate. We will continue our drive to Rangamati. On the way stops for photography of natural beauty, toilet and a cup of tea. Upon arrival to the Lake city Rangamait, visit the tribal cultural museum, Chakma tribal village, hanging bride etc. Dinner and overnight in Rangamati.
Rangamati to Badanrban
After breakfast at hotel, drive to city centre of Rangamti to visit the most important Buddhist monastery of Rangamati called Raj Bana Vihara. Biggest monastery having more than some hundreds monk and the most respected chief monks mommy is here. Locals have a belief that, he had some spiritual power and he motivated the largest community to become Buddhist. From there, we will take a reserve boat for tour of Kaptai Lake. Lake kaptai is about 700 sq km and it's the main source for livelihood of thousand peoples. Surrounded by hills, you will get some spectacular views of nature and lifestyle. Day time people do fishing and it's the main route for transportation for a lot of people. While cursing in Kaptai Lake we will visit several tribal villages of Chakma, Tripura tribe. Lunch is in an island restaurant. Post lunch cruise back to the city and take the car to drive to bandarban hill district. We will drive through

Badarban to Ruma to Bandarban
Bandarban, one of the most remote regions in the country. the Bandarban town stands on the Sangu River, lying in the heart of the rich tribal landscapes of the hill tracks. One of the last bastions of Buddhism in south Asia, this captivating hill country is home to some 13 different ethnic minorities of which them morong & the marma are the largest. These indigenous tribes differ in both physical appearance and in their religious and cultural beliefs from the countries majority Bengali population, In these two days, you have the opportunity to discover a little something of the nature and human diversity of this incredible setting.
some breath taking view points. Arrive bandarban in late afternoon. Dinner and Overnight bandarban
Early morning drive to Ruma to catch the famous Ruma market on market day. it is the best market to see the authentic , traditional tribal peoples coming from near the Burmese border. There is no other market in between two countries. We visit the market followed by lunch in a tribal house. All traditional tribal food will be served. On the way back visit several villages of Marma, Mru, tirpura Tribal villages. Climb to the Chimbuk Hill, enjoy the sunset from Nilachol tiger point. Back to the Hotel and Overnight in Bandarban.

Bandarban to Chittagong & train trip to Dhaka:
Morning after breakfast , a small hiking tour near the city hill area for 3 hours (optional).then check out from hotel & city tour of Bandarban including visiting the old king place from outside, the largest Buddhist temple known as Golden Temple situated 60 miter high and having the tallest stupa in Bangladesh. no videographer in the , visit the bandarban market for shopping , lunch in a local restaurant. Then slowly travel to the old market part to take a leisure boat ride on Sangu River. From at around 4:00 pm, the river becomes very active. it is the only source of water for many so afternoon people come down to washing and cleaning , for a walk . then, we will take the car from Bandarban to Chittagong . upon arrival , Dinner in the city and then you will be transfer to the Railway Station to take the Night train with sleeping cabin (subject to the availability) to Dhaka .

Early morning upon arrival, transfer to your destination and end our services.