Bangladesh Tour "Life happens here" I saw the slogan in Bangladesh tourism board website, and the slogan stuck in my eyes and that maybe interest me to take my Bangladesh Tour. Our 25 days holiday packages in Bangladesh began with a flight from Kloten, Switzerland to Dhaka. I was pretty excited about the Bangladesh tour and had organized a tour guide through a company called Tours and Trips Bangladesh, which I found on TripAdvisor.I asked them to provide tour packages and I also research on the Internet and together made a tour plan on Bangladesh tour for 25 days tour package.
A Country for Traveller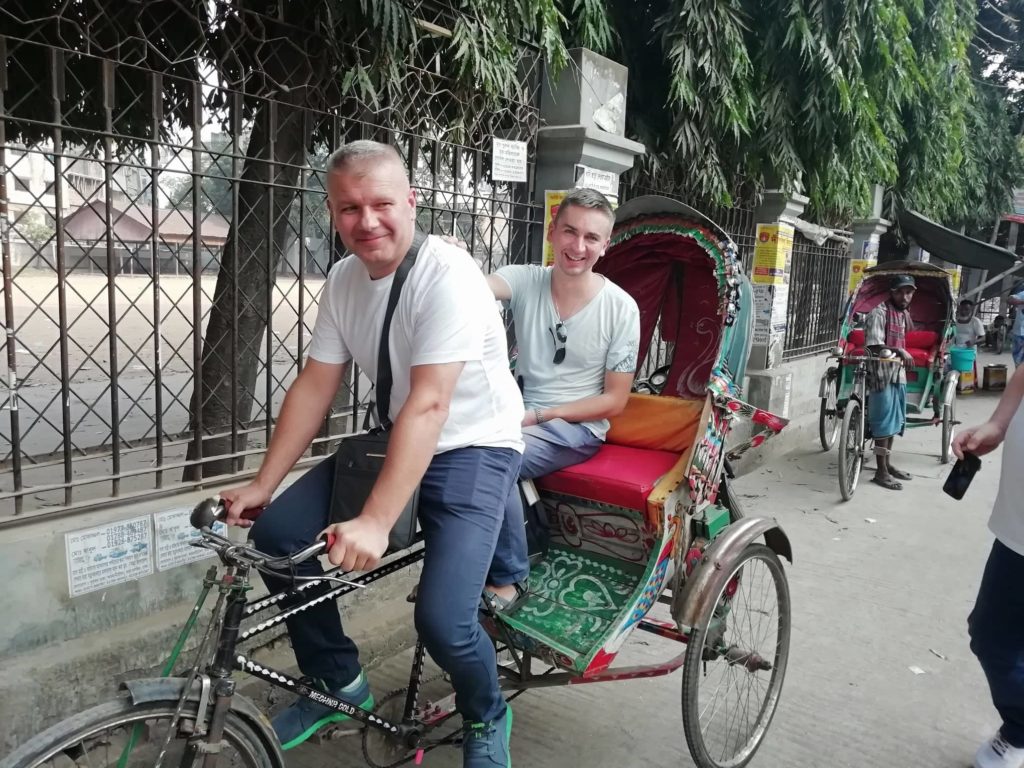 It was well organized and much informative trip. To take a Bangladesh Tour is not an easy country for traveling independently but with the help of a local travel agency, it becomes much more comfortable.
We were greeted at the airport by Zia and with Sohel (who would be our driver most of the time) and taken our hotel to acclimatize.fw
Dhaka Sightseeing  in my eyes
In the early morning, Zia arrived at the time to the hotel lobby and we start our Dhaka Sightseeing tour visiting the early vegetable market of Dhaka from where vegetables supplied to various parts of the city market. Then start driving to the flower market, from there I learned most of the occasions of Bengali and Hindu culture they use flowers, from this market flowers are supplying to various parts of the city. The morning was wonderful and very exciting to me, later we started to drive to old Dhaka visiting Hindu temple, an Arminian Church, Star Mosque, The Pink Palace, Lalbagh fort, rickshaw ride through the mayhem of the narrow streets and arrived Shakhari bazar, the place which I read in the Lonely planet.
We visited Shadarghat and enjoy a short boat ride at river Buriganga in the evening on a wooden boat to feel the rhythm of the life and vibrant river and enjoy the sunset then back to the hotel.
The one thing I should say about my guide who assigned from Tours and Trips Bangladesh for us. His name is Zia, he was very polite, caring, knowledgeable and he brief everything before we start. So, I feel much more relaxed for all arrangement.
Village Life Style and UBNIG Guesthouse
 After an early breakfast start to drive to Tangail after 3 hours of driving checked in to UBNIG Guesthouse (it's in the middle of a rural weaving village). After refreshments, we took a bicycle ride through the village and visited the locals and see their weaving and observed their daily lifestyle and felt warmth welcoming by the common people of Bangladesh. Back to the guest house for some local organic food for lunch. After lunch, we visited some farmers working with the organic method. I felt my day awesome good.
After dinner, we joined the KIRTAN (Spiritual and religious music) performed by farmers. Back to the guest house and had a good night sleep.
Mahasthan and KantaNagar
After an early breakfast, we started our drive towards north Bengal and visited Mahasthan Citadel date back to 3rd century BC also visited archeological sites Vasu Vihara, Gokul Medh Govinda Vita and Pasu Ram Palace that grew around Mahastan during that time. Later back to hotel Momo Inn, the hotel is very nice.
After breakfast drive towards Dinajpur this drive took around 3 hours. upon arrival check into the hotel. After refreshment and lunch started to drive to Kanta Nagar to visited 14th-century Kantajew temple which is beautifully decorated with terracotta and history of Mahabarath and Ramayana. Later drive back to hotel en route visited tribal village of Shantal community. Evening time we dinner and overnight at Dinajpur Parjatan.
City of GAUD !
After an early breakfast proceed to Paharpur to explore the ruins of the oldest Buddhist Monastery from 7th century (UNESCO) south of Himalayan. We had lunch in a local's house and started drive to Rajshahi en-route visited Kusumba mosque from Sultan's period 15th century arrived at Rajshahi & checked-in to Bangladesh Parjatan Corporation motel. We had dinner and overnight at Rajshahi.
After breakfast starts t0 drive to Chapai Nawabgong. Which once known as the city of GAUD. It was the capital of Sultans. Nowadays it is divided by Bangladesh and India border where we visited the ruins of Darasbari Mosque and Madrasa Khania Digi Mosque, Choto Sona mosque, and Tawa khana. Then drive back to Rajshahi to our hotel refresh and lunch took a boat ride and cross the great Ganges river to an uprising island we visited a remote village and observe people's lifestyle. Enjoyed the beautiful sunset on river Ganges. Back to our hotel for good night sleep. Hotel Parjatan.
The Temple City and Lalon's Mystic Songs
After an early breakfast visited to the bank of the river Ganges , than we started drive to southwestern part of Bangladesh, drive towards to Jessore en-route we visited Temple city-Phutia, Shiva Temple, Govinda temple, Annik Temple and other terracotta temples later drove to the shrine of mystic poet Lalon's place in Kushtia and we enjoyed the famous Lalon's Mystic Songs, performed by Local Singers and we made  photography on Baul Singers then started drive to Shilaidaha to Rabindranath Tagore's kuthibadi and saw the kuthibadi complex later dinner and overnight at Hotel in Jessore.
My Amazing Experience in The Sundarban Mangrove Forest
Early morning breakfast then started towards Mongla, and we transferred Mongla by Micro Van 45 minutes' drive to our boat M.V ALORKOL and embarked to the boat then immediately the boat started cruising towards the Sundarbans Mangrove Forest, our Sundarban tour start, arrived Kotka wildlife sanctuary in the afternoon, we went to hiking in the Kotka forest area to see wildlife and forest. Back to the boat in the evening also had a BBQ dinner and overnight on the boat. Our guide was always forthcoming with answers about social, political and current events questions we had, we are so curious traveler who wants to know how the rest of the world people think, eats, behaves, lives and reacts.
Early in the morning, we offered, trip through small creeks and canals by country boat to see the wildlife and feel the forest from very close. After breakfast on boat then disembarked from boat to Jungle walk, walking through the forest trail to the beach, and some other activities near forest office we had that was funny and interesting and overnight on the boat.
UNESCO Protected the World Heritage Site
Early in the morning disembarked from boat and drive towards Morolgong on the way we had a quick stop at Bagerhat , a 15th century Muslim city once called Khalifatabad, which is the present-day Bagerhat and is a UNESCO protected world heritage site 60 dome Mosque, and Kodla Moth at Bagerhat and started drive again at morning  9:00 am we embarked at boat start journey from Molorgang to Dhaka to on the first-class cabin of century-old Paddle Steamer and it was nice journey to discover riverine Bangladesh, enjoyed the unique experience of cruising through one of the largest river line delta. This is one of the best ways to see the river line beauty & photography of their lifestyle and I saw at Bradt also recommended this paddle steamer.
 Old Capital Sonargoan
In the early morning at 5:00 am we disembarked from the boat and started driving towards Sylhet before we dropped to visit Sonargoan old capital of Bengal. We visit the ruins and explore the area and visit Panam city, Goaldi Mosque, folk museum. Later took a short drive to river Meghna and take a boat ride to river islands and saw people's lifestyle in rural villages and villagers are very welcoming to us, I saw the smile into their eyes and to their faces.
Then back and started drive to Sylhet on the way we visited a small village market, village and one traditional brick factory and we arrived at the resort which is in the northeastern region of Sylhet. Where the majority of British Bangladeshi hail. It is own by Shahin Ahmed and his wife Ayesha Ahmed. The resort owner hospitality was very much touchy, he inspired us more about Bangladesh and its culture that what I already get from my guide, so it was easy for me to catch all his points and I felt comfortable.
Later after that day, we visited the Shrine of HAJRAT SHAHJALAL and HAJRAT SAHA PARAN and paid our respect, morning drive to visited Jaflong, Tamabil land border between Bangladesh and India also visited the stone collecting area and walk through Khasia tribal Villages. Then after lunch, drive back to Lala Khal and took a cruise on the crystal blue river and visited villages. After a beautiful sunset drove back to Sylhet. In the early evening, we took for a river cruise with dinner and live music (At own Cost), and back to our resort.
Tribals of Shylet and Srimongal in Bangladesh
After breakfast we started the drive from Shylet to Srimongal this took our journey 2:30 hrs (approximate). And checked-in to our hotel. After refreshments, we set out to explore and walked around the Tea Garden and meet with tea workers in their villages. Later visited Monipuri tribal village and interaction with them there we meet a girl of Monipuri tribal her name is Chandana Das, she took us to her house and show us their living tradition. We had a wonderful time. We took out for dinner at a famous local restaurant "KutumBari" (At Own cost). The food was delicious even we have visited the kitchen of the restaurant to see their cooking. And then back to our hotel.
Very early morning, after an early breakfast, drove through to the tea capital Srimangal. And take an early morning trekking to Lawarchara forest, trekked inside the forest and saw vegetation, bird's, rare mammal Hillock Gibbon and also, we visited the Khasia tribal village located inside the deep forest. Then visited the tea gardens, tribal villages of Monipuri and Tripura tribe and we were shopping around for souvenir shops.  driven back to the hotel for that day.
 The Parliament and National Museum of Bangladesh Arts and Culture
Later that day after breakfast we started to drive to Osmani International Airport to catch the flight to Dhaka at 12:20 pm. After arrival and start drove to visit Parliament building, which looks beautiful architecture with geometry style then visits the National Museum of Bangladesh, Museum is nice with its culture and arts.
After breakfast drive towards Chittagong en-route, we visited Comilla. We start our destination to the south-eastern part of Bangladesh after arrived at Comilla we started to explore ruins of Shalban Vihara Buddhist Monastery also visited Rupban Mura Itakhola Mura after lunch drove to Chittagong. Arrived Chittagong and check into a hotel. Hotel Peninsula 4 Star
Above and Beyond of The Chittagong Hill Tracts
The morning after breakfast checked out and driven to the Chittagong most crowded fish market. This market is the largest sea fish market in Bangladesh. The market starts early morning for some hours, fishermen with boats coming from the deep sea to sell fish here. A visiting of the fish market and then drive to the Chittagong Hill Tracts On the way stop to visit worlds one of the largest and famous ships breaking yards. It's the fourth-largest ship-breaking yard and every time you visit, at least 50 to 70 ships you can see are dying there.
We took a boat tour to ship breaking yard of Sitakunda. Then continue our visit including the scrap market of ship breaking. We will continue our drive to Rangamati. On the way, we stopped for photography of natural beauty. Arrived at Lake city Rangamait, visit the tribal cultural museum, Chakma tribal village, hanging bride, etc. Dinner and overnight in Rangamati
Market Day on Wednesday and Sunday.
Hotel Parjatan Tourist Standard (Best in town)
After breakfast at the hotel, driven to the city center of Rangamti to visit the most important Buddhist monastery of Rangamati called Raj Bana Vihara. Biggest monastery having more than some hundreds monk and the most respected chief monk's mommy is there. Locals have a belief that he had some spiritual power and he motivated the largest community to become Buddhist. From there, we took a reserve boat for a tour of Kaptai Lake. Lake kaptai is about 700 sq km and it's the main source of livelihood of thousands of people. Surrounded by hills, you will get some spectacular views of nature and lifestyle.
Day time people do fishing and it's the main route for transportation for a lot of people. While cursing in Kaptai Lake we visited several tribal villages of Chakma, Tripura tribe. Lunch had in an island restaurant. cruise back to the city and take the car to drive towards Bandarban hill district.  Evening checked in the hotel and overnight.
Early morning drive to Ruma to catch the famous Ruma market on market day. it is the best market to see the authentic traditional tribal peoples coming from near the Burmese border. There is no other market between the two countries. We visit the market followed by lunch in a tribal house. All traditional tribal food served for lunch. On the way back visited several villages of Marma, Mru, Tripura tribal villages. Climb to the Chimbuk Hill, enjoyed the sunset from Nilachol tiger point. Back to the Hotel and Overnight in Bandarban. 
Bandarban Tribal Landscapes of the Hill Tracks
Bandarban one of the most remote regions in this country. The Bandarban city stands on the Sangu River, lying in the heart of the rich tribal landscapes of the hill tracks. One of the last bastions of Buddhism in South Asia, this captivating hilly region is home of 13 different ethnic minorities of which them Morong & the marma are the largest communities. These indigenous tribes differ in both physical appearance in their religious and cultural beliefs from the country's majority Bengali population. In these two days, we had discovered a little something of nature and human diversity of this incredible settings. Some breathtaking viewpoints arrived Banberban in the evening and overnight at the hotel.
The morning after breakfast, a small hiking tour near the city hill area for 3 hours (optional). then check out from hotel & city tour of Bandarban including visiting the old king place from outside, the largest Buddhist temple known as Golden Temple situated 60 meters high and having the tallest stupa in Bangladesh Lunch in a local restaurant. Then slowly traveled to the old market part to take a leisure boat ride on Sangu River. From around 4:00 pm, the river becomes very active. it is the only source of water for many so afternoon people come down to washing and cleaning then we took the drive from Bandarban to Cox's Bazar. Checked in hotel and overnight.
The Longest Unbroken Sea Beach in the World
Cox's Bazar is famous for the longest unbroken sea beach in the world. When we get to the Cox's Bazar town, a fishy smell hang into the air, a beach that stretches a 125 km down of eastern side of the Bay of Bengal, it sounds amazing. But as the top Cox's bazar is a domestic tourist destination. Then we took a boat for Sonadia Island (approx.) 9 km away, we were the only people there and the fisherman, who lived around the year drying fish in the bamboo hut then we back to our hotel Ocean Paradise.
Then early morning breakfast then beach activities, lunch after that start driven to Cox's Bazar Airport, flight schedule for Dhaka 3:50 pm after arrival we transferred to the hotel and the next day, we took our flight for Zurich and here our Bangladesh tour ends. 
Life Happens Here
For me, I would like to say really, life happens here. It does not have a modern hotel in about 50% of the places we visited, think hot/cold shower, sometimes no air conditioning and certainly no heat, hard mattress, for these we do not blame to Tours and Trips Bangladesh for unrealistic expectations on your part. Tours and Trips Bangladesh keep their every commitment during the tour and made the whole tour interesting. Go and have an amazing time, that may certainly change your life.